Cheers to 2018 and Dry Shampoo. 
Dry Shampoo helps our flat, limp, oily hair go just one more day (or two) longer without washing. No soap or water is required to bring your locks back to looking and feeling fresh. In my last couple of blog posts a common factor has been Shampooing too Often and I have been trying to stress the importance of not washing your hair daily. Now you need to find a dry shampoo that will work for you to save you from that dreaded blow dry and give you some extra time between shampoos.

For me second day hair sometimes turns into third and forth day hair. I love using Bumble and Bumble Pret-a-Powder for its texture and hold. It absorbs the oil and gives my hair the perfect grip for buns, braids and all sort of cute second day hair. 
For Most Dry Shampoos:
Apply to the roots of your hair, divide and lift your hair in small sections.
Flip your head over and applying to the underneath for added volume.
Let the dry shampoo sit for a couple of minutes to absorb the oils than brush it through.
Style it as normal and Ta Da noticeably fuller, thicker and texturized hair.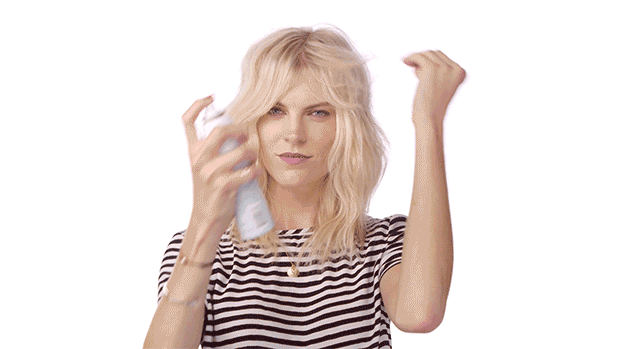 A Drugstore Score. If you buy one dry shampoo at the drugstore- make it this one. A favorite among celebrity hairstylists, with a sweet powdery scent, it tackles second-day oily roots with ease while also creating fluffy but touchable volume. Dove Fresh and Floral Dry Shampoo
Classic Batiste Dry Shampoo Tropical.  Don't you love when a classic product also happens to be really, really affordable and smell like an island vacation?  The spray decreases strands and bulks up hair fibers for a completely refreshed look. It appears white at first spritz, but run your fingers or a brush through your hair and the powder will be entirely undetectable.
Dark-haired gals know that one dry shampoo does not fit all. Rather than deal with the dusty white residue that comes with most formulas, Moroccanoil® Dark Tones Dry Shampoo is specifically designed to enhance brown and black hair. With signature argan oil that nourishes and conditions hair without leaving it greasy or heavy, while a light color tint enhances the vibrance and shine of rich hair tones. 
Dirty Little Secret: When I am in need of a little oil blotting in my hair, I use baby powder as an easy alternative. I do color my hair white blonde hair, which allows the baby powder to lighten my greasy dark roots blending them in with my lighter ends. 
Do you have any dry shampoo hacks?   What is your favorite Dry Shampoo?!
Til Next Time!
XOXO- ALi Rae
Please reload